RV Multiplex Controls: Genset Interface Module
The Generator Interface Module is a RV electronic that allows the system to start and stop generators onboard a recreational vehicle. The Genset Interface is controllable via external switches, touchscreens, or smart devices through the Blue Tooth Module. Additionally, this module provides real time generator status information.

Able to be controlled manually or automatically, this RV electronic can set a routine for generator "quiet times" when the generator won't need to be in operation. The automatic start function can be set to various parameters that trigger it to turn on. Examples of this are:
-HVAC demand via the Road Commander HVAC Interface Module
-By vehicle battery voltage via the Road Commander System Monitor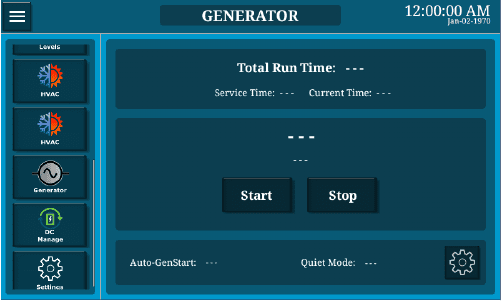 Other features for this RV electronic control are:
-Works as a standalone or as part of the Road Commander Multiplex System
-Automatically starts the generator if the vehicle battery voltage drops below a programmed level
-Automatically starts generator when required for operation of the air conditioner or heater (when paired with HVAC Interface Module)
-Reties up to 4 times to make connection when there is a generator start failure
-Minimum run-time setting for HVAC demand to prevent excessive start/stop cycles
-Minimum run-time setting for battery charging demand allows control over charging routine
-"Quiet Time" settings prevent operation of the generator in violation of local regulations
-On-board indicators show status of all inputs, outputs, and network status
-Configurable parameters for custom coaches
-Hour meter tracks total hours, hours since last service, and hours since most recent start
-Supports generator models from most major HVAC manufacturers, Onan, Honda, and Kohler
To learn more about the Genset Interface Module or other Road Commander Multiplex Control Modules, check out Intellitec's Product Page or reach out to our Application's Engineering Manager.