RV Multiplex Controls: HVAC Interface Module
This week's featured Road Commander Multiplexing module is the HVAC Interface Module. This RV electronic provides an interface between the Road Commander System and the RV's heating, ventilation, and air conditioning systems.

This multiplexing module operates industry standard HVAC systems and is operated through the Road Commander Touchscreens or Mobile App for your smart device.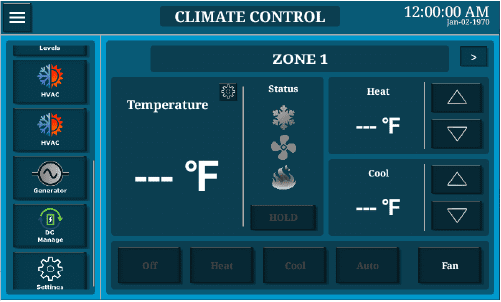 Each HVAC Interface module can control two HVAC units. The HVAC Interface can control:
High and low fan speeds
Heating systems
Air Conditioning
If there are additional HVAC units, extra interface modules can be added to the system. The extra systems can be linked or controlled as independent zones.
To recap, the HVAC Interface is a useful RV electronic. Other than simply controlling the HVAC system, the module offers:
Independent control of two HVAC units
Uses standard external HVAC unit power interface
Heating may reverse cycle or direct electric
Supports additional modules
Automatic control of fan speed
Four heating and cooling set-points automatically adjust the temperature throughout the day
"Hold Temperature" feature overrides set back functions
Configurable parameters for installer
Fan Off Delay allows the fan to run after the compressor turns off for improved HVAC efficiency
Compressor short-cycle delay prevents damage to the compressor
Safety mode operates circulation fan after interruption to power
Automatic detection of temperature sensor faults
On-board indicators show status of all inputs, outputs, and network status
To learn more about the HVAC Interface Module or other Road Commander Multiplex Control Modules, check out Intellitec's Product Page or reach out to our Application Engineer Manager.