Battery Isolation and Management
IRD, B.I.R.D.®, Battery Guard®, Battery Control Centers
Intelligent Battery Charging
Battery Run Down Protection
00-01118-000 - Battery Guard® 1000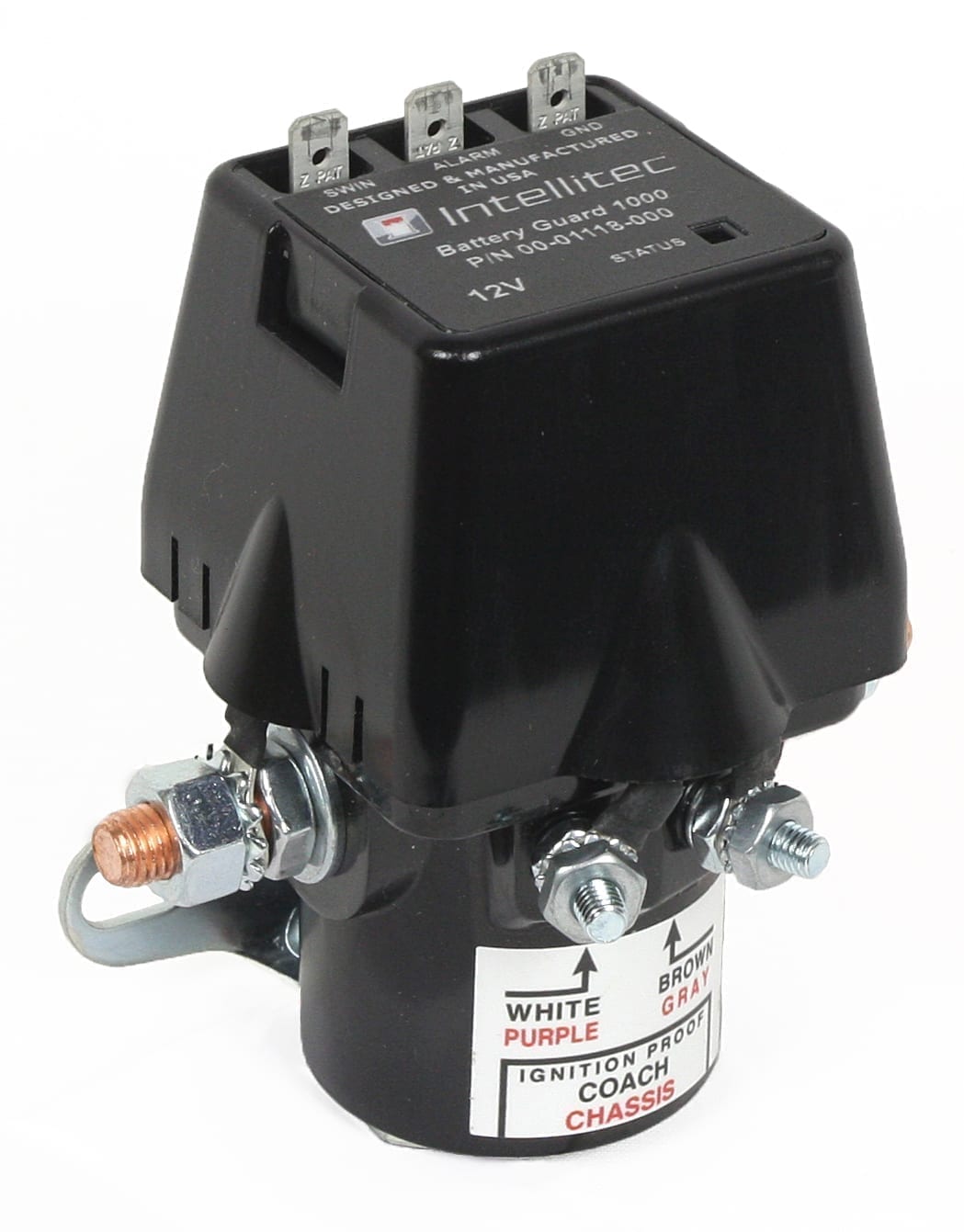 Part numbers:
00-01118-000
Description:
The Battery Guard® 1000 helps prevents "dead batteries". By disconnecting the battery load from the battery before it becomes too discharged, the Battery Guard® 1000 protects the battery from potential damage. It is designed to be used in vehicles with 12‐volt electrical systems. The Battery Guard® 1000 is an improved and simplified solution to the well‐recognized Intellitec Battery Guard®.
10-01118-000 - Battery Guard® 1000 kit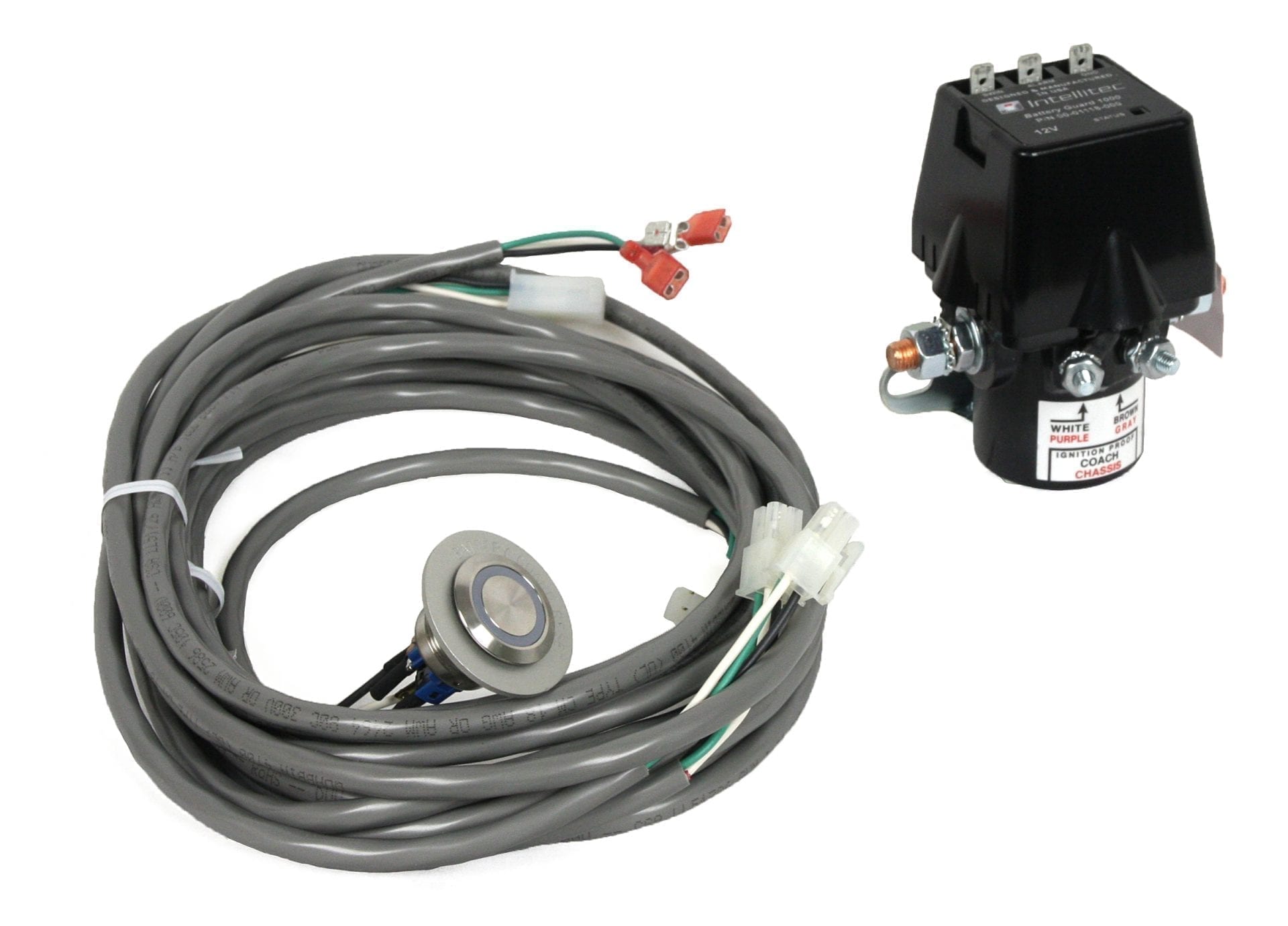 Part numbers:
10-01118-000
Description:
The Battery Guard® 1000 kit is an easy to install plug and play system designed to prevent batteries from low voltage conditions and potential damage. Included in the kit is a sleek stainless steel switch with built in LED indicator that allows the user manual control as well as feedback status of the battery system.
The Battery Guard® 1000 kit includes:
1x 00-01118-000 Battery Guard® 1000
1x 11-01085-000 Battery Guard® Reset Switch
1x 11-01118-000 10' Extension Harness
1x 11-01118-001 10' Harness
00-01130-000 - Battery Guard 1000® RV-C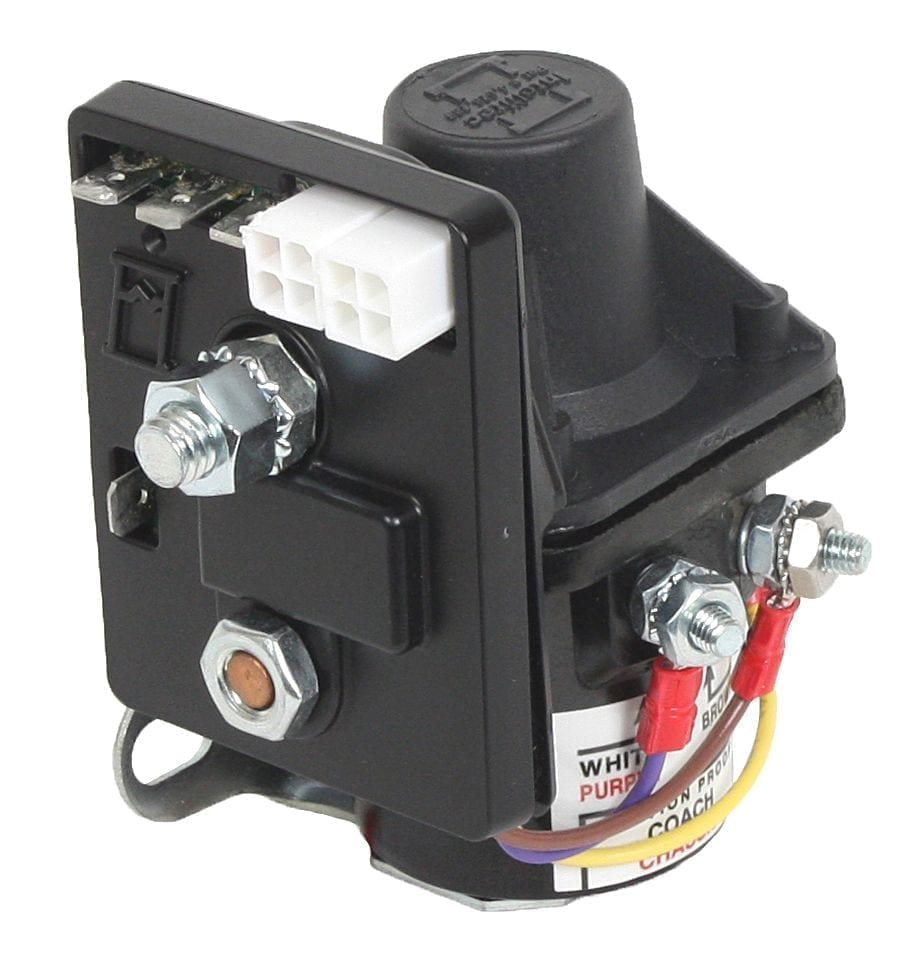 Part numbers:
00-01130-000
Description:
The Battery Guard® 1000 RV‐C is a battery disconnect and DC management Device. The primary disconnect uses Intellitect's 100A Battery Disconnect Relay (US Patent #4,628,289) that has been used by the transportation industry for over 25 years. The auxiliary bypass output supports up to 3A and is independently controlled from the primary disconnect. Unique to this Battery Guard is the over‐current and over‐temperature shutdowns which provide additional safety and protection for the vehicles electrical system. The Battery Guard® 1000 RV‐C includes features such as automatic disconnect and reconnect, manual disconnect and reconnect, alarm output status and fault indication. Designed with independent disconnects and 2 RV‐C communication ports, one switched power and one constant power, advanced electrical systems can be created maximizing system power efficiency. With the RV‐C ports the module can provide vital information about the battery levels and power consumption, system healthy, status and more on the network to provide the end user with real‐time feedback about how their vehicle's electrical system is operating.
00-00660-XYZ - Battery Guard® 2000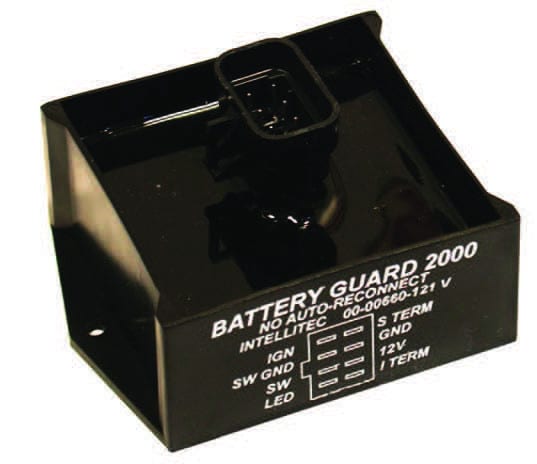 Part number:
12V Models:
00-00660-120        w/ Auto Reconnect (potted black)
00-00660-121UNP  w/ out Auto Reconnect (not potted)
00-00660-122        w/ out Auto Reconnect (potted black)
24V Models:
00-00660-241        w/ out Auto Reconnect (potted clear)
00-00660-243        w/ out Auto Reconnect (potted black)
Description:
Battery Guard 2000® constantly monitors the available battery power when the engine or charging system is off. If the battery voltage drops below 12.1 V or 24.1 V a voltage sensitive timer is triggered within the ECU is triggered.
By removing all loads connected to it, the Battery Guard 2000® prevents any additional power consumption, allowing enough battery charge to start the engine.
The operator can also manually disconnect the battery by pressing and holding the reset switch for 3 seconds.
00-01013-XYZ - Battery Guard® 3000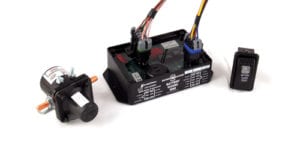 Part numbers:
12V Model:
00-01013-120
24V Model:
00-01013-240
Description:
NO MORE DEAD BATTERIES
The sales of Battery Guard 2000 over ten years provided Intellitec with very significant feedback with regards to the development of the next addition to the range of Battery Guard systems. Using all the feedback we have been provided from our customer base, we began the design of the Battery Guard 3000. We decided to make all the parameters of operation programmable by either the installer or the OE.
The programmability allows an almost infinite amount of functionality in the one system, the Graphical User Interface ( GUI ) is extremely simple to use and has many very useful features designed in. As well as providing programmable low voltage disconnect to prevent a dead battery, the system also acts as a manual isolator and Programmable split charging across chassis and auxiliary batteries. With new battery technology in the marketplace now, this is a very useful feature indeed as the chemistries are very different within this new technology.
Battery Guard 3000 is now installed to 100% of the UK Fire & Rescue Fleet, as well as Ryder PLC, National Blood, Many Australian Fire & Defence fleets, UK Ambulance Fleets besides many many more. The Battery Guard 3000 is available in both 12V & 24V and in 100A & 200A versions, see data sheet for part numbers and specifications.
10-00698-XYZ - Lift Gate Battery Guard®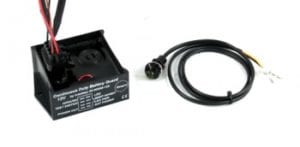 Part numbers:
12V Model:
10-00698-012
24V Model:
10-00698-024
Description:
Intellitec developed a Battery Guard system specifically for the Lift Gate market. Since its launch the Lift Gate Battery Guard has been installed by many of the worlds Lift Gate manufacturers and fleet operators.
Lift Gates draw huge amounts of current from the battery and it does not take very long for the Lift Gate to kill a battery stone dead resulting in the operator not being able to start the truck. Rental / Hire fleets will give testament to this perennial but avoidable issue. Lift Gate motors and components really don't perform well when operated at low voltage condition, it certainly reduces there functional life expectancy quite dramatically.
The Intellitec Lift Gate Battery Guard is rugged in design, it has to be, and there is probably no tougher environment in the world in which electronics have to function than inside a Lift Gate pump enclosure. You have high moisture, grease, chemical, huge temperature fluctuations to name just a few challenges.
The Intellitec Lift Gate Battery Guard was designed to live with this environment, it fits in series with the Lift Gate pump solenoid and is installed easily to any Lift Gate in thirty minutes. The Lift Gate Battery Guard provides the operator with an audible and visual warning of low voltage condition for 2 minutes prior to automatic low voltage disconnect. There is no reset switch, once activated, the operator is forced to start the truck and charge the battery, once Lift Gate Battery Guard sees the battery being recharged we automatically reconnect power so the Lift Gate can continue to be used.
Lift Gate Battery Guard is perfect for rental fleets anywhere, contact us to discuss your application.
Cargo Light, FET Modules, Road Commander, & Command Center
00-00712-XYZ - Cargo Light Control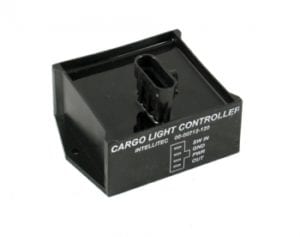 Part numbers:
12V Model:
00-00712-130
24V Model:
00-00712-240
Description:
The Intellitec Cargo Light Control (CLC) is designed to control the box lights on service vehicles. It is easy to install, provides multi-point switching and uses momentary switches in parallel to turn the lights on and off. In addition to this convenient on/off function, the CLC offers battery rundown protection from the lights being accidentally left on.
The operation is simple. When the lights are on for more than twenty minutes, the CLC will blink the lights at a rate of six to ten times per minute alerting the driver of an impending shut off. After one minute, the lights will automatically be turned off, preventing further run down of the battery. If the driver wants to keep the lights on, he simply turns the CLC on again, allowing another twenty minutes of use.
The Cargo Light Control also includes low battery indication. If the battery voltage falls below 12 volts for a period of two minutes while the lights are on, the lights will blink six to ten times per minute and then shut off.
00-00926-XYZ - Daytime Running Lights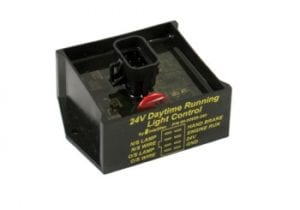 Part numbers:
12V Model:
00-00926-120
24V Model:
00-00926-240
Description:
The Intellitec Daytime Running Light Control (DRL) is a cost effective solution for the provision of reduced headlights during daylight hours. Using pulse width modulation technology, the DRL ECU operates the headlight bulb filaments at a 50% duty cycle, to achieve this three conditions need to be met, these are -
• The engine must be running
• The handbrake is released
• The headlights are switched off
If the driver turns on the headlights the DRL ECU is isolated and the head lamp bulb filaments return to full brightness. The DRL has been designed to be suitable as either an OEM or indeed retrospective installation where the current monitoring of headlamp bulbs is a desired option. Packaged in an IP68 fully waterproof enclosure, using Delphi Paccar plug, the DRL ECU can be mounted anywhere on the vehicle.
A diagnostic LED is provided on the ECU to provide indication and status of operation, these are -
• Constant Red LED = The ECU has power but is not in PWM Mode
• Flashing slow 2 seconds = The ECU is active and is in PWM Mode.
• Flashing fast 0.5 seconds = The ECU has power but there is an internal fault
Data Sheet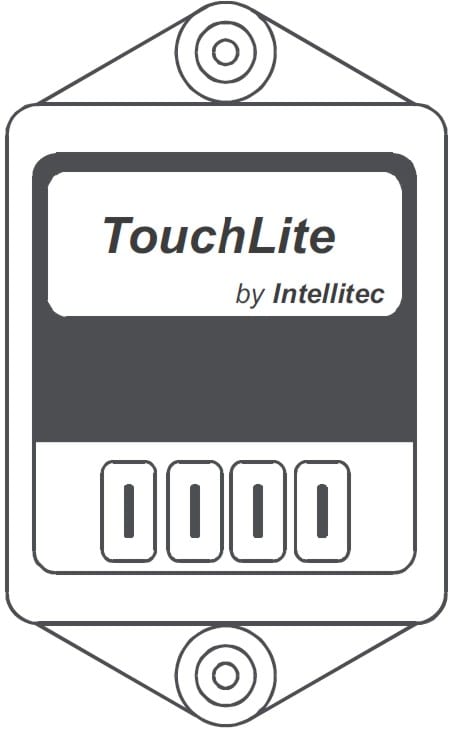 Part number:
00-00098-000
Description: 
Intellitec's TouchLite is a sensor pad activated control for outdoor lighting. When
wired into an existing 12 Volt outdoor porch light, it provides 30 seconds of light to allow
the user to find the door key and unlock the door in a darkened area.
00-00263-XYZ - Light Dimmer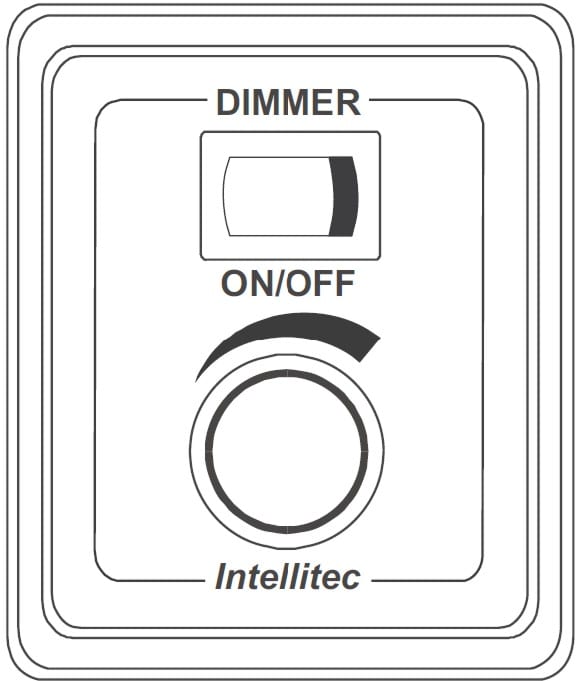 Part number:
6.5A Lamp Dimmer:
00-00263-000 (Cream)
00-00263-001 (Black)
11A Lamp Dimmer:
00-00263-100 (Cream)
Description: 
Intellitec's Light Dimmer offers the RV owner the convenience of dimming the interior lights from full brilliance to a more comfortable level for watching TV or entertaining guests.
00-00256-000 - 5 Minute Timer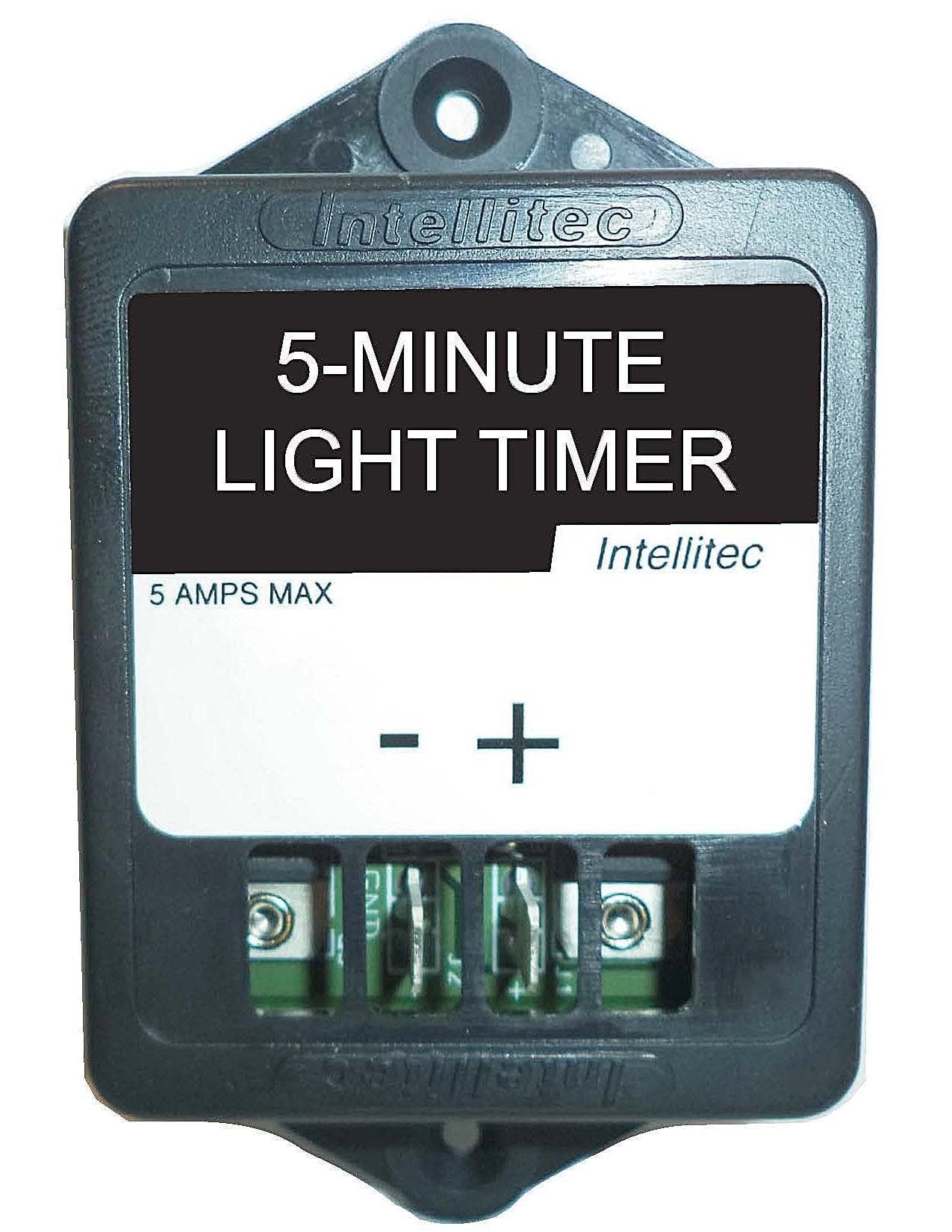 Part number:
00-00256-000
Description: 
Intellitec's 5-Minute Light Timer offers the RV owner a delayed light off function. When the owner activates the lighting circuit but forgets to turn it off, the Intellitec 5-Minute Light Timer will automatically turn off the circuit and prevent additional battery drainage.
The unit will handle up to 5 Amps of incandescent lamps. It is a two terminal controller that wires in series with the light. It can be wired either in the high side or lo side of the circuit.
Water Pump, Slide Outs, Wiper Systems, Dive Platforms, Boarding Doors, & Bow Thrusters
00-00776-200 - Water Pump Control - potted 15A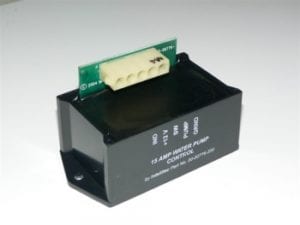 Part number:
00-00776-200
Description:
The MONOPLEXTM 15 Amp Water Pump multipoint control is designed to operate as a low side remote switch in 12 volt DC systems. As its name implies, it was designed to control the domestic water pump. This controller will only work with loads greater than 5 amps but less than 15 amps. The control is packaged in a plastic enclosure suitable for mounting in a wet environment, such as near the water pump. It is capable of operating from multiple switch points (as many as desired) and up to 100 milliamps of power indicators. Power can be supplied either from a battery or a converter.
00-00145-100 - Water Pump Control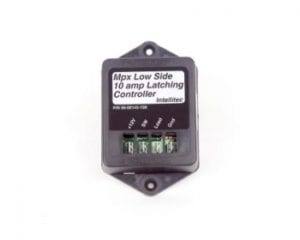 Part number:
00-00145-100
Description:
Monoplex water pump controller is designed to operate as a "low side " remote switch in 12V DC systems. Whilst the water pump controller was designed to control the domestic water pump in an RV or boat application, its use however is not limited to this, it could also be used to control a wide variety of loads such as lighting, other pumps, fans etc when it is convenient to switch on the ground side. The Monoplex water pump control is packaged in a plastic enclosure for mounting near the water pump using two flat head screws. The water pump controller is capable of operating multiple switch points and up to two LED power indicators may be used all on the single wire. Power to the water pump controller can be supplied from either the battery or the converter.
Slide Out Room Controllers
00-00971-XYZ - Motor Control with Audible alarm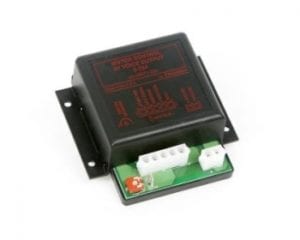 Part numbers:
20A-50A:
00-00971-000
10A-35A:
00-00971-100
5A-15A:
00-00971-200
2A-6A:
00-00971-300
Description:
Intellitec's Motor Control with voice output is part of the expanding family of the MONOPLEXTM System. These controllers are designed to control the operation of a slide out room electrical mechanism. To operate the room, the owner would simply press and hold the button in the desired direction(In or Out). With the jumper in the default setting, there is delay in operation of the slide-out to allow for a voice announcement that the slide-out is in motion.
The motion of the slide-out may be stopped at any time by releasing the button. When the slide out reaches it's outer most limit, the unit will sense the rise in current and switch off the power to the slide out motor. To move the room back in again, the owner will press and hold the button in the desired direction. Again, there is a short delay in operation of the slide- out to allow for a voice announcement that the slide- out is in motion.
When the slide out reaches it's inner most position, the controller will sense the rise in current and will shut off power to the motor. Direction control is accomplished by using the rocker switch terminated at the MPX Bus input. The module operates by sensing the voltage on the MPX bus input. When the MPX bus is at 12 Volts, the motors are at rest. As the switch is depressed (In or Out direction) each function sends a different load to the module which in turn interprets the direction of travel.
The Current Adjust is used to prevent damaging the motors or opening of the fuse or circuit breaker for the slide-out unit. If the current exceeds a preset level, the module shuts off. To restart the motor, press the switch in the another direction.
Power Distribution and Energy Management
Fuse Panel, AESS, Automatic Transfer Switch, & EMS
Multiplexing and Convenience Panels
PMC, IPLC, & Road Commander
Intellitec has been designing and manufacturing multiplexed solutions for the special vehicle market since 1987. These products and systems range from simple multi point switching controllers to complete vehicle systems used in RV, Buses, Trucks, and Emergency Service Vehicles worldwide.
Road Commander is the latest programmable control system designed and manufactured by Intellitec. The initial release includes 7 hardware modules, Road Commander configuration GUI & Road Commander configurable smart phone or tablet APP for both Android & IOS devices. Road Commander is the perfect solution for the RV and specialty vehicle industry. The system is very simple to install, navigate and requires no special training or software experience.  If you can click a box, you can program Road Commander. The system is Bluetooth compatible and can be hard wired controlled using any type of switch or button the OEM or converter chooses.
Programmable Multiplex Control PMC
Programmable Multiplex Control ( PMC ) has 320 channels of I/O across a very significant family of I/O hardware architecture to suit the majority of applications. PMC operates with one master module ( CPU ) with various I/O. Each I/O module has ten channels, you can have as little as 1 I/O module in a system, or as many as 32. The Intellitec Windows based PMC software suite WIN PMC is used to configure the system, only the master or CPU requires programming. Win PMC is a series of AND, NOT & OR commands, coupled with timers and 160 virtual channels make this an extremely powerful tool. For full and detailed technical data, please download our PMC Catalog.
00-00808-XYZ - Vehicle Programmable Logic Controller
Part number:
12V Model:
00-00808-000
24V Model:
00-00808-240
Description:
Intellitec`s Vehicle Programmable Logic Controller ( VPLC ) is our entry-level programmable controller, VPLC is ideal for small buses, van conversions / up fitting market where the electrical specifications make it unfeasible to use standard wiring. Compact and rugged in design, IPLC comes with its own Windows-based Graphical User Interface ( GUI ) that makes the VPLC a very powerful control system.
Key features
• 10 solid state outputs
• 3 High side direct inputs
• 1 Temperature input
• 1 Voltage sense input
• 1 Audible alarm output
• 10 Virtual channels
• 5 Timers, one shot or duty timer selectable
• Event counter
• Fully waterproof to IP67
• Communicates over standard automotive cables
• 6 & 10 way switch panels
Switches and Touch Controls
Switch panels, Emergency Time Manager, RC
Intellitec Design and manufacture a wide variety of display systems for the special vehicle and marine sector. Our display products range from simple battery voltage with disconnect displays used by various RV OEMS, to ship system indicators for well know boat manufacturers, special purpose time managers for the paramedic market and LCD displays used in the bus & coach market. Like many of our products and systems we take inspiration from our ever increasing customer base. We welcome customers new and old with there display ideas. 
00-00775-100 - Emergency Time Manager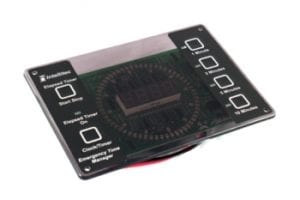 Part number:
00-00775-000
Description:
The Intellitec Emergency Time Manager (ETM) is a clock & timer specifically designed to assist medical personnel with time-critical operations such as drug infusions within a difficult and testing environments such as an ambulance or an emergency response vehicle. The unit is designed to be mounted within the interior of the vehicle & directly connected to the electrical system. The ETM circuitry is protected against electrical surge and transient conditions, in addition, high voltages caused by load dump will not damage the clock. The ETM will automatically switch the display off 20 minutes after the vehicle's engine is shut down and no charging voltage is present, thereby protecting the battery. The clock will, however, continue to run until the vehicle is restarted when the display will be automatically switched back on. Only 2 connections are required, + Bat & Ground.
00-00183-0YZ - MPX Switch
No Image Available
Part number:
00-00183-010   (Slide Out Switch (Brown))
00-00183-011   (Slide Out Switch (Black))
00-00183-012   (Slide Out Switch (White))
Description:
The MPX Switch is part of Intellitec's Monoplex System family of products. The remote switch can be located in the vehicle, away from the controller and eliminate the need to run long heavy gauge wire to high current loads. The switch comes in multiple color options and come in both single and dual configurations.
Custom Panels and Contract Manufacturing
Intellitec offers custom engineered panels to supply OEM's with a plug and play system. Fully tested, our panels greatly reduce the installation cost and improve the quality of your control and monitoring system.
Cost competitive quick turn contract manufacturing services are also available for low and higher volume needs. Intellitec builds through-hole, surface mount and hybrid printed circuits, harnesses, assemblies and control panels at our 35,000 state of the art ISO9001:2015 facility.
To learn more about Intellitec's contract manufacturing capabilities, click on the link.