00-00712-130
The Intellitec Cargo Light Control (CLC) is designed to control the box lights on service vehicles. It is easy to install, provides multi-point switching and uses momentary switches in parallel to turn the lights on and off. In addition to this convenient on/off function, the CLC offers battery rundown protection from the lights being accidentally left on.
The operation is simple. When the lights are on for more than twenty minutes, the CLC will blink the lights at a rate of six to ten times per minute alerting the driver of an impending shut off. After one minute, the lights will automatically be turned off, preventing further run down of the battery. If the driver wants to keep the lights on, he simply turns the CLC on again, allowing another twenty minutes of use.
The Cargo Light Control also includes low battery indication. If the battery voltage falls below 12 volts for a period of two minutes while the lights are on, the lights will blink six to ten times per minute and then shut off.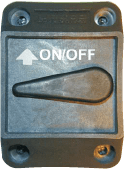 00-01010-000
The Cargo Light Control/E is activated by a momentary switch connected to ground. Intellitec offers a companion switch to activate this control. This weather tight switch can be used in applications where washing down the interior of the truck is routinely performed.
Technical: 3.56" H x 2.5" W
Part Numbers
12V Model:
00-00712-130
24V Model:
00-00712-240